Organised by a grass-root community of thousands of scientists across the world, Pint of Science 2022 allowed researchers in 25 countries and over 800 cities to share their latest findings with the public in interesting, informal settings. Lao PDR joined the global Pint of Science family on Monday 9 May 2022, when the first-ever Pint of Science Laos kicked off in Vientiane.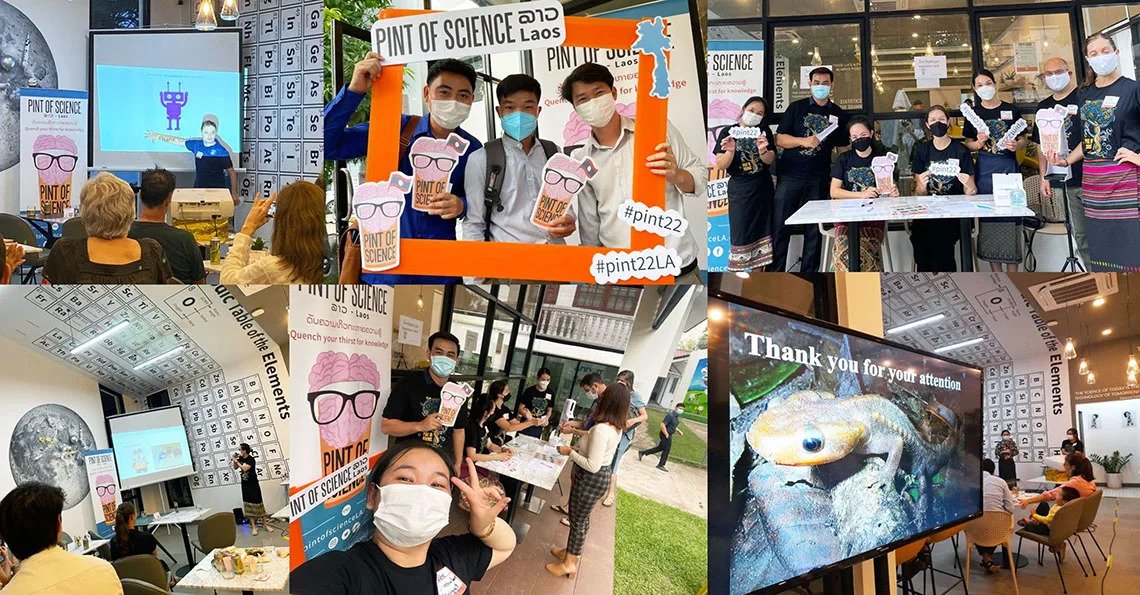 Collage of photos taken during Pint of Science presentation in Vientiane, Laos PDR in May 2022 [Pint of Science Laos]
Congratulations to the Pint of Science Laos Team: Tamalee Roberts, Kaisone Padith, Vayouly Vidhamaly, Padthana Kiedsathid, Aphaphone Adsamouth, Latsaniphone Boutthasavong, Manophab Luangraj, and Bountoy Sibounheuang
Led by Lao-Oxford-Mahosot Hospital-Wellcome Trust Research Unit (LOMWRU)'s Matt Robinson, the Pint of Science Laos team put together a full 2-day programme at Scipresso, Vientiane's only science-themed café. Hosted by Matt and Kaisone Padith, the first night saw talks on artificial intelligence and its use on Instagram beauty influencers, the life of the Lao warty newt, and we discovered what life is really like for a pathologist at the Cancer Center, Mittaphab Hospital. The second evening hosted by Vilada Chansamouth and Latsaniphone, featured talks on biodiversity in the Mekong region, COVID-19 in Laos, and disease transmission by animals. A fun and entertaining time was had by all!
More information on LOMRU: https://www.tropmedres.ac/units/lomwru-lao-pdr
More information on Pint of Science: https://pintofscience.com/

This work is licensed under a Creative Commons Attribution 4.0 International License