Introduction
One of the objectives of WHO's mental health action plan (2013) was "to strengthen information systems, evidence, and research for mental health" using a multi-sectoral approach. In line with this, the University of Global Health Equity (Kigali, Rwanda), through Hamwe Festival - an annual event that celebrates and encourages the contributions of creative industries in the global health field - produced the In Tune podcast.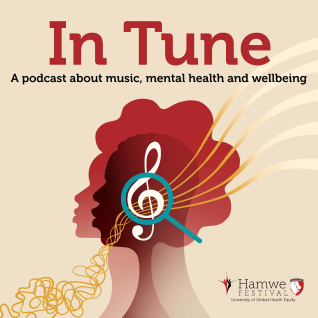 In Tune is a six-episode podcast miniseries discussing music and its relation to key factors affecting mental health, including social inclusion and community engagement, coping with stress, depression and anxiety, chronic pain, and psychological trauma as well as self-concept and memory. The podcast was borne of conversations had during the second edition of Hamwe Festival where 'Social Justice and Mental Health' were discussed through the lens of the arts. During these conversations, music was highlighted as a support for mental health.
Aims
In creating In Tune, we wished to engage the public on existing research and evidenced practices in music-based interventions for mental health. To this end, we conducted a literature review on the topics of music and mental health and invited a global array of experts, among them musicians, researchers, and mental health practitioners.
Podcast Content and Lessons Learnt
We began, in our first episode, by engaging Dr. Ian Cross (Director, Centre for Music & Science at Cambridge University), Prof. Hao Huang (the Bessie and Cecil Frankel Chair in Music at Scripps College), and Dr. Tasha Golden (Senior Arts in Health Research Scientist, the International Arts + Mind Lab at Johns Hopkins Medicine) on what music is, and learned that in one scoping review, over two-thirds (68.5%) of the studies found music to be effective in treating or mitigating the symptoms of serious mental illness.
The efficacy of music therapy, as Dr. Jaakko Erkkilä (Professor of Music Therapy, University of Jyväskylä) shares in the fourth episode of In Tune, may be enhanced by techniques such as resonance frequency breathing (RFB).
In addition, it may matter how and where these studies are conducted. As Dr. Aza Allsop (Resident Doctor at Yale University School of Medicine) notes in the second episode of In Tune, where he, along with Dr. Chris Nicholson (Program Development Manager, Musicians Without Borders), speaks on the role of music in fostering social inclusion and community engagement, community-based interventions among traditionally under-researched groups may prove a powerful way of transforming societies.
Throughout the episodes we learned that music can be a lifelong support for: the creation and expression of identity (Dr. Suvi Saarikallio, Associate Professor of Music Education, University of Jyväskylä; Episode 6), for coping with stress (Dr. Deforia Lane, Music Therapist; Episode 2), chronic pain (Katie Fitzpatrick, Ph.D. Student at the Irish World Academy of Music and Dance, University of Limerick; Episode 5), and trauma (Beata Shyaka, Music Therapist and Educator; Episode 5) and for retrieving autobiographical memory (Dr. Petr Janata, Professor in the Psychology Department and Center for Mind and Brain at the University of California, Davis; Episode 6).
As we measure the reach of In Tune through audience count, we continue to engage the public on some of the key learnings through conversations on social media.
In Tune launched on June 3rd, 2021 with singer and community organizer, Nirere Shanel and podcast guests, Dr. AZA Allsop and Dr. Deforia Lane.
Find the podcast on Captivate and other platforms including Spotify, Apple Podcasts, and Google Podcasts.
Find out more about the first edition of Hamwe Festival (2019) in their Mesh article

This work is licensed under a Creative Commons Attribution 4.0 International License