Introduced by: Cheleka Mpande, Eh!woza, South Africa
In this final workshop in the Connectors 2021 online series, held in November 2021, we delved into the practical side of turning an engagement idea into a fundable project proposal. We also looked at how we can begin to address the complexity of evaluating the impact of engagement and how projects can make positive changes in communities and inform policy. Participants also shared their thoughts on the support structures and changes that are needed to allow excellent engagement work to happen.
Graphic illustrator, Deon Hanns from Sanscribe, created drawings of the discussions as they evolved.
Session 1: Making a project happen
Guest facilitator: Georgia Bladon, Senior Funding and Partnerships Manager, Wellcome Trust, UK
Outlining the theme of the first session, Georgia Bladon described how funding and timing were key themes that had emerged in the Connectors consultations which informed the topics of the Connectors workshops. She described her transition from a 'Connector' role organising engagement in various contexts including research institutes, hospitals and arts festivals, to her current work at Wellcome supporting community engagement in Africa and Southeast Asia. She introduced the first presentation which focused on how to turn an engagement idea into a fundable project proposal.
PRESENTATION 1 - How to turn an engagement idea into a fundable project
Patricia Kingori, Wellcome Senior Investigator and Associate Professor in Sociology and Global Health Ethics at the Wellcome Centre for Ethics and Humanities and the Ethox Centre, University of Oxford, UK gave a presentation speaking from her experience as a funding committee member assessing grant applications for community and public engagement activities. Patricia made clear that she was very much giving her own opinion rather than speaking with a specific funder in mind. Her presentation gave a series of highly practical and useful considerations for involving communities in project development, writing a proposal, planning the work and budgeting. She highlighted the importance of being original, avoiding a 'top-down' approach and ensuring community members are compensated for their time. Click on the image below to open the full presentation slides [PDF, 95KB]
QUESTION: What changes are needed to support excellent engagement?
During the next part of the session, participants moved into three breakout groups to give their views on what changes they would like to see to better support engagement work. Each group was structured to address specific professional groups that are often involved in engagement: Freelancers/independent Connectors (including creatives and artists), Health/science researchers, and Charity, Community or Civil Society organisations. They were asked to identify what support structures, training, new systems or new funding/provisions are needed to support strong engagement work. Each group was encouraged to think about the barriers and challenges experienced by the professional group the breakout room addressed, and then think of solutions.
Below is a summary of some of the key points from each group:
Group 1: Freelancers or independent Connectors including creatives/artists (Group Faciliator: Alice Carey, Portfolio Manager for the Hub Award, Wellcome Trust, UK)
Access to resources and research on how to best evaluate community engagement work with a focus on examples of when engagement has changed the way research is done

Mentorship for young professionals to go from small-scale student work in the field to then sustaining a career in engagement - perhaps systemic support or panels of mentors

Staff capacity and resource needs to be increased for continuous monitoring and evaluation, as well as analysis, which is very time-consuming
"We need mentorship for young professionals to sustain a career in engagement"
Group 2: Health/science researchers (Group Facilitator: Jacqueline Goldin, Extra-Ordinary Associate Professor at University of the Western Cape, South Africa)
More training opportunities in engagement and communication
Support with writing up work not just for academic articles but also policy briefs and other communication forms to reach different groups
Encouraging partnerships and collaboration so that scientists are not the only ones defining the problem to be solved
"More training on engagement... if you are given two minutes, what do you say about your research?"
Group 3: Charity, community or civil society organisations (Group Facilitator: Nabeel Petersen, Director of Interfer & Co-founder of the Pivot Collective, South Africa)
Core funding remains a pressing issue for charity or community-based organisations as often grant applications are only for a specific project. This same issue creates a barrier to sharing learning after projects are completed as there is a necessity to move to the next project for funding reasons. Flexibility in funding is needed to support this sector's participation.
Encouragement is needed to work collaboratively rather than in competition for funding with other organisations or charities working in the same health area
Need for regulatory instructions for small organisations to operate within, especially with regard to roles, responsibilities and managing grants
"We must build innovation to localise knowledge in spaces where people are already interacting"
FULL RECORDING OF SESSION 1
SESSION 2: Evaluation and Sustainability
Guest facilitator: Injonge Karangwa, Director of Arts and Culture in Global Health & Public Engagement, and Chief Hamwe Festival Organiser, University of Global Health Equity, Rwanda
Our facilitator for the second session, Injonge Karangwa, gave workshop participants some background on her work organising the Hamwe Festival, an annual event held in Kigali that celebrates and encourages the contributions of creative industries in the global health field. This year's festival was a dynamic five days of live performances, music, poetry, open discussions, film projections and visual arts exhibitions - on theme of 'Pandemics, Confinement, and Social Changes'.
Injonge went on to introduce the second session which explored monitoring and evaluation, measuring impact and looking towards future sustainability in engagement work.
PRESENTATION 2 - Measuring impact and success
Beatrice Watermeyer, Monitoring and evaluation consultant, South Africa gave fantastic insight into using impact measurement to monitor progress in a complex project using the South African Solidarity Fund Food Relief Programme as a case study example. She described the aims of the food relief programme and the partners involved. They used a social value international framework across four stages in a cycle; planning for impact, collecting evidence, analysing evidence, and reporting and improving. Importantly, Beatrice explained how the process allowed for continual improvement in the project. Click on the image below to open the full presentation slides [PDF, 1.6MB]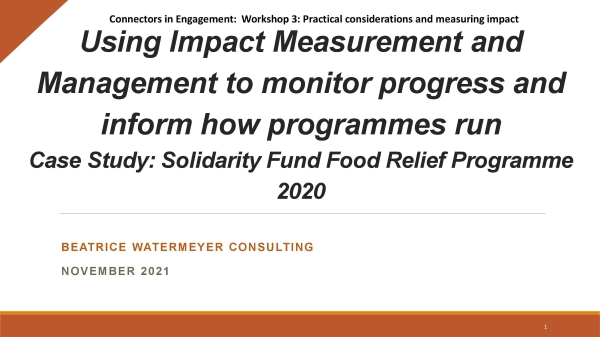 Explore the Mesh resources on measuring impact, which include short introductions to many of the key frameworks, methods and approaches: Mesh Evaluation Theme Area
PRESENTATION 3 - Making positive changes in communities and informing policy
Elona Toska, Assistant Professor, University of Cape Town and Mona Ibrahim, Policy Engagement Coordinator, University of Oxford outlined their work investigating the dynamics around positive changes for young people in Africa. Elona described how they had analysed multiple sets of data to study what determines the safe transitions to adulthood for children with a focus on multiple programmes or interventions. She highlighted the importance of listening to young people as well as government partners around what programmes of support come together to have an impact. Mona continued by describing examples of the importance of integrated care, going beyond aspects of health, for women and girls in Kenya, South Africa and Ethiopia. Click on the image below to open the full presentation slides [PDF, 1.9MB]
A CALL TO ACTION: How can we better support interdisciplinary engagement and ensure successful projects?
Following participant questions to the speakers, Injonge asked all workshop attendees to give their final commitments or calls to action on how we could better support engagement work and ensure we can run valuable projects. Participants were asked to add their thoughts into the chat. Below are some of the responses:
Final reflections - Noni Mumba, Head of Community Engagement at KEMRI-Wellcome Trust Research Programme, Kenya
Noni gave her reflections on the discussions during the workshop and reiterated Patricia's recommendations for what makes a good fundable project. She added that there is a tendency to rush forward with making a grant application rather than spending time thinking clearly about the project. She recommended collecting ideas over time and discussing them with trusted colleagues, so that when a funding call comes up you are more prepared to bring a proposal together. Noni went on to highlight the five key dynamics that she felt were required for supporting excellent engagement.
When addressing measuring impact and success in engagement work, Noni discussed the importance of identifying the most pressing question. She encouraged us to think about what funders, researchers, us as implementors, and other key partners want to know about the impact of the engagement. "What learning do they want to come out of the activities?" She also stressed the importance of always 'continually getting better' within a project process as well as the great need for funding to support monitoring and evaluation.
The KEMRI | Wellcome Trust Research Programme is a world renowned health research unit of excellence. They are state of the art facility hosting over 100 research scientists and 700 support staff working across Kenya, Uganda and the region. Find out more about Noni Mumba.
"Measure, learn, share, change/adapt..."
FULL RECORDING OF SESSION 2
Graphic illustrations | Deon Hanns, Sanscribe (LinkedIn), South Africa

This work is licensed under a Creative Commons Attribution 4.0 International License