Introduction
Community Engagement
Collaboration and active involvement
Challenges
Lessons learnt and recommendations
Evaluation
Introduction
Despite the vast diversity of its populations, genetic studies in Africa have been limited. African populations, Malians in particular, have a high rate of intra-ethnic and blood-related marriages, resulting in increased prevalence of autosomal recessive diseases. Family-based genetic studies can be limited in developed countries due to smaller family sizes. The average fertility rate in Mali is over 6 births per woman, offering a unique opportunity to find new disease genes or variants that can then be studied in other populations. Hereditary neurological diseases are very debilitating diseases, and developing countries, particularly in Africa, pay a high price in terms of disability-adjusted life years. Although most are currently untreatable, increasing awareness about hereditary neurological disorders can reduce this burden.
This project, led by the University of Sciences, Techniques and Technologies of Bamako, Mali, sought to help to identify and characterize novel hereditary neurological disease genes in Mali. The project also trained physicians, students, and the community in the characterization of neurodegenerative diseases and to inform issues in the feedback of individual genetic research findings in African genomics research.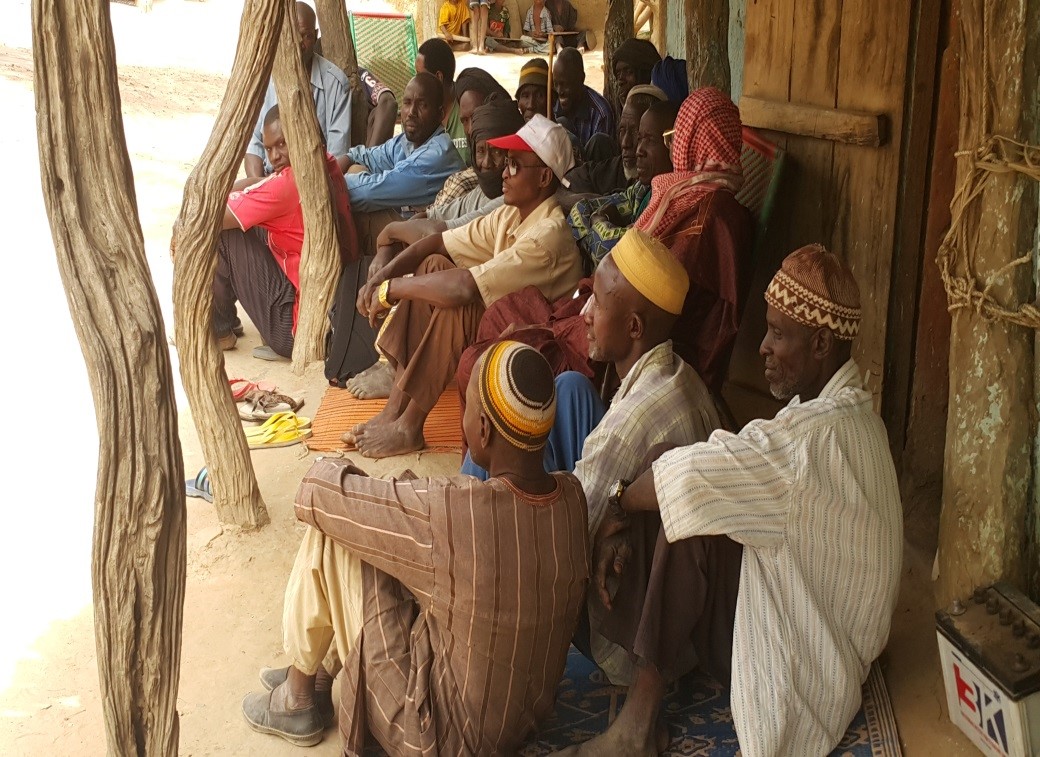 Credit here
Our general goal for the community engagement was to characterize clinical, social and behavioural features linked to the psychosocial effect of these diseases and identify associated factors in order to provide targeted preventive and therapeutic approaches that may be applicable to other culturally similar populations.
The target populations for the project were: the general population, the community leaders (youth, religious, and civil rights organizations), the political and administrative decision-makers, funding agencies, ethical committees, vulnerable population such as women, and healthcare and traditional practitioners.
The Malian population has a high rate of polygamous and consanguineous marriage. In this setting, mothers with children with recessive diseases are often stigmatized as having a "bad fate". In many cultures such as in Mali, people favour boys more than girls, leading to a discrimination in their care, especially in economically limited populations. Previous studies have found that women are more prone to present depression or anxiety disorders, multiplying the disease burden substantially. Though our early results show psychosomatic features in both genders, its prevalence is far higher in women. We hypothesize that Malian women dealing with hereditary disorders are more susceptible to present psychiatric disorders due to many surrounding social factors and the limited knowledge about genetic diseases in the general population. Although a previous study has shown that Malians have an average knowledge of genetic diseases and testing, their knowledge and attitudes did not significantly change after genetic counselling, hence a need for aggressive strategies to increase awareness, education and communication about these diseases. Therefore, addressing this gender bias is a major component of our community engagement activities.
Community Engagement
Before starting our project we held team meetings to elaborate tools and strategies to reach to all stakeholders. These meetings were attended by ethics experts. In addition, we organized meetings with administrative and community representatives including leaders of some sub-groups. For the quantitative component, we elaborated a case report form to fill all information of the patients according to the questions asked. An official letter was sent to community health centers by the Health Department on our behalf to ease the process of patient/population access.
Based on the distribution of patients in the regions of the country, we chose the villages of intervention, and we determined the statistical units and the number of focus groups according to the weight of that population. This number is also depending on the prevalence of neurogenetic diseases in the area. Then, we determined the minimal size of samples for the thorough individual interviews. Not all the territory was covered because of security issues in some parts of the country.
Our survey team is composed of Socio anthropologists, Public health specialists, a Psychologist, a Psychiatrist, geneticists and clinical neurologists.
The basics of genetics including a summary of what DNA is, the different patterns of inheritance and the diagnosis criteria and testing of neurodegenerative diseases were discussed within families and at community level. In families in which the disease distribution has caused tension due to blame, a targeted intervention has been adapted.
Through examination, interviews and public community engagement sessions, we have contributed to restoring a good atmosphere in some families, to develop behavioural interventions to advice on the risk of consanguineous marriages, and alleviate the stigma and exclusion related to gender or ethnicity within the communities.
Providing training to girls and women in high school and universities will help reinforce women's health advocacy groups, especially in genetic disorders
Tools used for the CE:
The case report form, camera for video recording and pictures, dictaphones for the focus group, notebooks, cell phones, diagrams to represent different inheritance patterns.
Collaboration and active involvement
An active involvement is necessary in our case by interesting the community leaders to interact with the project team to fight the stigmatization and other social issues related to genetic disorders. It is essential to train the community relays to involve more people in the research activities and benefit sharing for the communities. For that, field trips were organized to meet with communities, conferences in high schools, radio talks, TV appearances and newspapers were used to reach out to a wider audience.
We collaborated with the Malian ethical committee, the H3Africa Ethics Working group, the community leaders, the patients and their families, clinicians, media papers and the audio-visual press to strengthen our CE strategies about genetic diseases in general and particularly hereditary neurological diseases. Because of our experience, we have been asked to talk at the H3Africa Ethics and Regulatory issues workshop regarding our feedback of findings process as an example to set guidelines for returning findings, taking into account African populations' cultural, social and economic diversity. Recently, we have helped organize patients with rare diseases in association so that they can help reach out to the stakeholders and advocate themselves for more focus on health policy and research towards rare diseases, and to fight stigmatization at community level.
Challenges
The main challenges were:
The low literacy of the general population makes understanding the genetic concept and words difficult. Therefore, it is difficult to apprehend whether participants understand what is at stake when they enrol to the study or genetic counselling during feedback of genetic results.
The Malian population is a paternalist society in which family heads or tribal leaders have a big influence in the decision-making power of others. It is challenging to have a balance in ensuring individual voluntariness without hurting the power of the leaders.
Because of the culture of polygamous marriage with all the tension it comes with, addressing the disease pattern, especially when only one mother, usually a cousin of the husband, is having children with the disease was of big concern.
Lessons learnt and recommendations
There is no standardized way to ensuring community engagement when doing research in populations with high cultural differences

The need of an Africa-centered genetic counselling training program
Funding to develop and implement CE programs in sub-Saharan countries with different cultural backgrounds
Involve the ethical committees
Evaluation
We plan to set guidelines on how to deal with good practice of CE in the community in culturally diverse populations, and to create some criteria to evaluate the stigmatization on neurogenetic disorders and others diseases before and after CE. To achieve our goal we used qualitative and quantitative methods. Qualitative components will be added to our questionnaire to assess the perception, behaviour, knowledge and attitudes of our patients about neurogenic diseases. Qualitative analysis by focus groups will also be performed, eight people per group. Descriptive statistics, linear, uni- and multivariate regression tests will be used to assess the variation regarding gender, and ethnic, education and socio-economical background and others exposure factors.
Please note all photographs were taken before the COVID-19 Pandemic
This report is part of the H3Africa: Engagement with Genetics and Genomics Programme Hub [link]
This work is licensed under a Creative Commons Attribution 4.0 International License