During this webinar held in May 2022 the research team behind the REAL Community Engagement Realist Review shared their fascinating findings and discussed some of the implications for the field of engagement.
The REAL project aimed to provide more conceptual clarity around how engagement works in practice and looked at published papers and engagement work within malaria research in low- and middle-income countries. The review, which is supported by Wellcome Trust, highlights some key relationship and power dynamics at the heart of engagement work and a range of factors that enable and constrain it.
Click on the image below to download the Presentation Slides [PDF,2.59MB]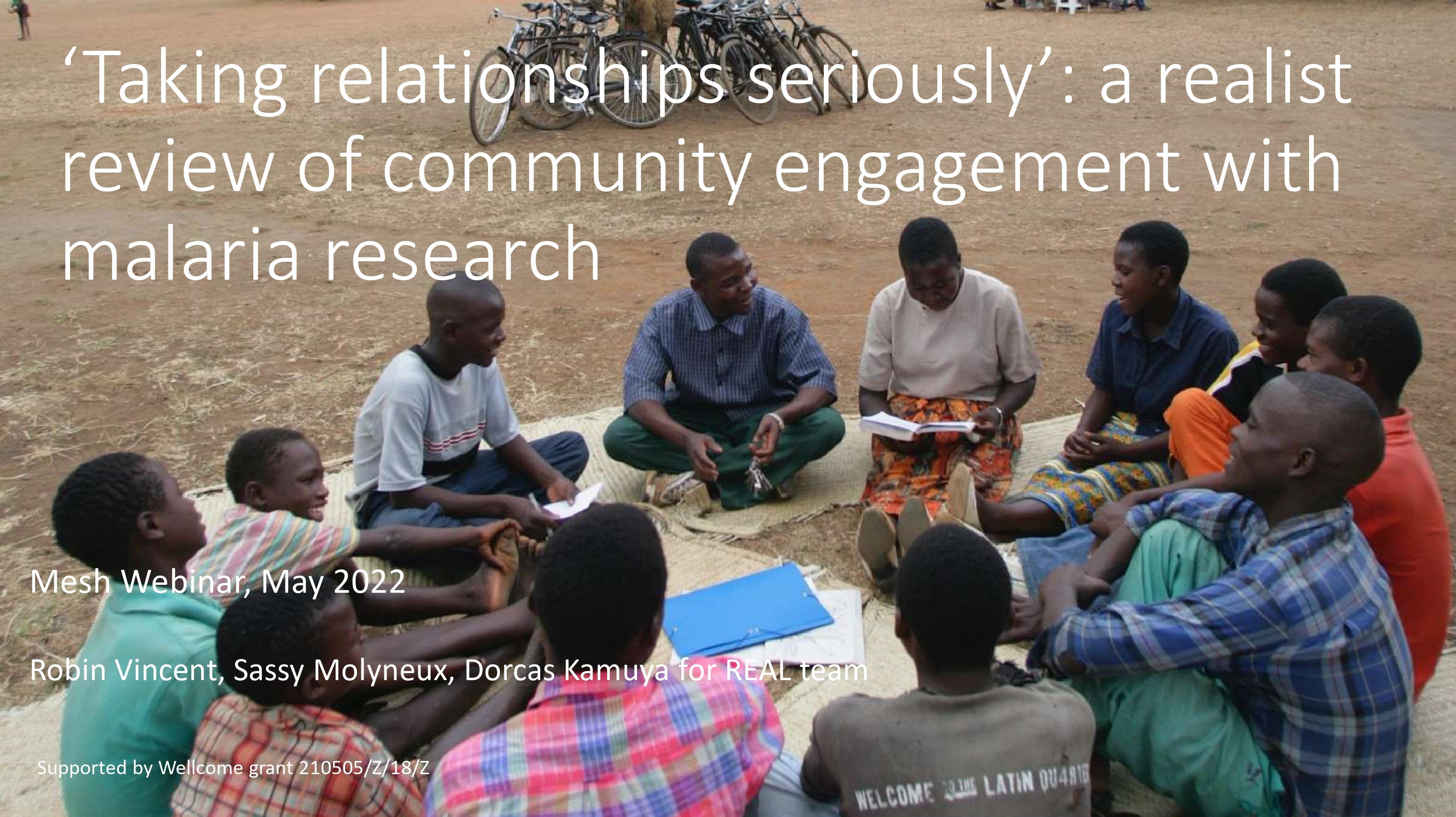 Speakers
Professor Sassy Molyneux is Professor in Global Health, University of Oxford University and Senior Researcher at the KEMRI-Wellcome Programme, Kenya. Her main research interests span health policy and systems research (governance, finance, responsiveness to patient/public priorities and needs, system resilience and treatment-seeking), and empirical ethics, including community engagement and the everyday ethics of frontline health provision and of conducting studies in resource poor settings. She has recently shifted to live in Oxford from her long-term Kenyan base to co-lead the Health Systems Collaborative in the Nuffield Department of Medicine.
Dr Robin Vincent is a social anthropologist and independent learning, evaluation and research advisor with many years' experience working in social development and public health, in the UK and international settings. Robin has designed and facilitated multi-stakeholder learning forums on social development, and community and public engagement with health research. He has provided advisory inputs on evaluation for a range of international agencies and organisations including DFID Uganda, UNAIDS, UNAIDS Kenya, Australian and Cambodian Red Cross, Soul City Institute (South Africa), H3Africa, Nurture Development, and Wellcome. Robin co-led REAL with an international team
Professor Dorcas Kamuya is a Wellcome Trust Society & Ethics Fellow, conducting empirical ethics research examining community engagement on complex ethical topics, with bio-banking as a case study. As a social science researcher in an LMIC, her research interests span interrelated areas including developing ethical frameworks for Controlled Human Infection Studies in LMICs; community and public engagement in health research, and ethical dilemmas for frontline research workers. She is primarily based at the KEMRI-Wellcome Trust Research Programme (KWTRP) in Kilifi, Kenya. Dorcas is the current chair of the Health Systems and Research Ethics Department and co-leads the Health Systems Research theme.
Animation introducing some of the findings of the review
The REAL team: Robin Vincent, Bipin Adhikari, Claire Duddy, Emma Richardson, Geoff Wong, Jim Lavery and Sassy Molyneux, with Mary Chambers, Phaik Yeong Cheah, Alun Davies, Kate Gooding, Dorcas Kamuya, Vicky Marsh, Noni Mumba, Deborah Nyirenda and Paulina Tindana.
Advisors: Mike Parker, Kevin Marsh and Janet Harris.
Contact: Rob Vincent robvconsult@gmail.com, Sassy Molyneux SMolyneux@kemri-wellcome.org
Funding: Supported by Wellcome grant No. 210505, with inputs from Wellcome grant No. 223488.


This work is licensed under a Creative Commons Attribution 4.0 International License